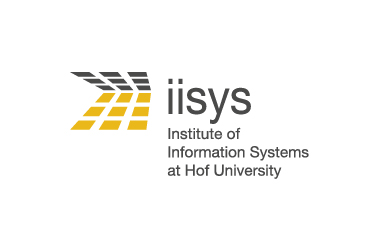 The Institute of Information Systems (iisys) is the central research facility for information technology at Hof University. It is a competence center for the application of information systems and bridges international research and development and its implementation in companies. The main research activities are in the field of digital transformation in health, mobility and industry 4.0.
The Visual Analytics research group has successfully applied for the project "International Teaching and Research in Hypertext" (INTR/HT). The project is funded by the Free State of Bavaria, Germany over the course of 3 years. For this project we are looking for a
Research Assistent / PhD student (m/f/x)
in the field of didactics of university education, computer science or related
in part-time (20 hours per week)

What is the INTR/HT project about?
Starting in spring 2020, INTR/HT aims at establishing a unique, worldwide operating study and research platform for hypertext research. The goal is to connect academics, students and industry working on related subjects. Furthermore, courses will be developed and conducted in cooperation with international lecturers. Along these lines, the projects aims at identifying, developing and implementing appropriate didactic methods and tools to be used for its international, distributed courses.

What are the main tasks?

Creating concepts of courses taught at various levels (BSc, MSc, PhD)
Identifying appropriate didactic methods and implementations for those courses
Managing the preparation of teaching/studying material for courses
Building and maintaining a network of international academics, organizations or businesses working in the field of hypertext
Management of hypertext related courses in cooperation with the involved lecturers
Designing and executing field tests
Contributing to scientific publications in particular in the field of digitalization and university education

What is important to us?
University degree in didactics of natural sciences, computer science, information technologies or a similar curriculum
High level of communication skills
Very good English communication and expression skills (spoken and written)
Willingness to study new topics
Reliability, resilience, high organizational skills and an independent and structured way of working
Open minded and keen to experiment

German language skills would be beneficially
What do we offer?
A versatile and challenging task within an advanced teaching/research project

A very nice working environment in the Visual Analytics research group
The option to work toward a PhD degree on successful project acquisition
The employment is limited in time based on the duration of the project
The employment contract is based upon the public service regulations of the Free State of Bavaria (TV-L)
The position is suitable for the occupation of handicapped people (m/f/x). Severely handicapped applicants (m/f/x) are preferably recruited if they have otherwise substantially the same qualifications, aptitudes and professional achieve.

If you have any further questions, please contact Professor Dr. Claus Atzenbeck (+49 9281 409-6331). If you have any questions about the process, please do not hesitate to contact the Human Resources Department (+49 9281/409-3118).
Please apply for the job (in German or English) including your cv and your references via the Online-Portal at the latest at February 2nd, 2020. Applications after this date will not be considered.